Changing the center panel of your cabinets can make an old kitchen look new again.
Another DIY idea for the small budget (short of doing a new kitchen design) that has big impact is to spruce up your old dingy cabinets, for the time being, by popping out the center panels of the wall cabinets and replacing them with any number of the decorative products mentioned below.  Or you can just paint the center panel (if it is flat) with a chalkboard paint to add an artistic and interesting place for art or grocery lists etc.. If you decide to replace the center panel with any hard material like glass, sheet metal,  lattice,  embossed metal tiles or resin panels, just to name a few, you will need to remove the cabinet door from the hinges first.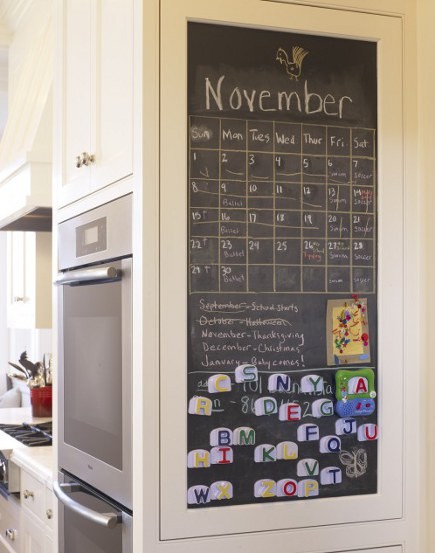 Depending on your cabinets and how they were built, you might be able to pop the center area out or you might have to use a sawzall and cut the panel out. If you have to cut it out and you are going to use glass or something heavy and breakable as a replacement, you will want to router out an edge for the glass to recess into. If you can't do this yourself, you can take your doors to a local custom woodworker or maybe even the glass place will do it for you. Then measure the area after the routing and this is the size the new panel needs to be. If you are using fabric or matting (and this is only a temporary quick fix till you can afford to replace your cabinets) then you can staple or even maybe glue the material to the inside of the cabinet door. If you do this, one way to make it look cleaner on the inside is to use some thin wood molding like pencil rail or scribe on top of the stapled or glued edges. Just make sure it does not protrude too far into the cabinets so your plates don't fit.
I love the chalk board idea too. As a matter of fact…. I am about to do this on some of my old dingy cabinets until next year when we plan to remodel our kitchen. My cabinets are from the 90's and are made out of… guess what? Oak of course. All cabinets on mid range homes built in the 90's were Oak!  Blah! Oh well, I am just going to take the focus off the cabinets and put it on the art work that will inevitably be scratched out on the new chalk board center panels. Then when I do remodel, if there is a particularly good piece of art, I can just pop it out and frame it! Voila! How fun.  Just make sure you do the prep work that is required by most chalkboard paint products. I like the one by Rustoleum and you can get it at Home Depot. It comes in black and  I think even green. The preparation smooths the surface so it looks and feels more like the real chalk board slate. And it will allow you to wipe them down with an eraser or a towel and create new art (or lists) if you want. You could also use wallpaper to fill in the center panel if you are feeling a bit eclectic. Just take your time and cut it perfect and paste it in.
Here are some product ideas if you choose to go the first route and replace the center panel. You can use any number of fun things. You can use Resin panels, Translucent Laminates, Decorative paper, rice paper, wood lattice, decorative sheet metal (there are a million styles, decorative copper panels that will patina, stainless sheet panels,  Thick vellum or art papers that will be translucent, grass wall papers (or wall paper of any kind but if it is opaque, you may as well just put it right on the center panel), decorative metal art cutouts, etc.  Some of these can even be used right on your center panel without removing it… as long as it is a flat (not raised decorative) center panel.
Here is a list of websites to find some of these items:  There are so many options in each of these webs sites. Please click on these sites and look as I have only pictured a few here.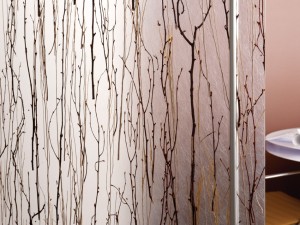 This is an Eco Resin from the 3-form company listed above. They have a huge, and I might add, my favorite list of resins that can be used as an insert. I love this company!  http://www.3-form.com/materials/varia_ecoresin/organics/  for really cool Eco resins
And try this site for nice rice paper and wild flower papers you can use as inserts between glass. http://www.hollanders.com/papers/  for nice papers etc.
  This is sheet metal that can be put in place of the center panel and then you can use these magnetic spice containers (found almost anywhere nowadays) to change out the center panels of the cabinets near your stove. Great looking and convenient!  https://www.metalbytheinch.com/ for great decorative sheet metals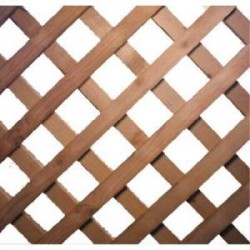 This is just plain old wood lattice. It can look really good as an insert if your OK with obscurely seeing what is inside.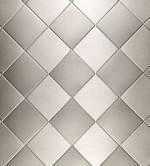 This is a decorative sheet metal from ADV technology  (web address above)   http://advtechnology.com/  for a huge range of panel products…. all really cool!
 This is an embossed metal panel, one of many styles, found on Home Depots online site from MD Building Products
Or Just try peel and stick products if you have a flat center panel and just want a new look. Take a look here.  http://www.brylanehome.com/decor/Peel-And-Stick-Wall-Metal-Embossed-Tiles.aspx?