Many of my clients ask me….."which is better, having local custom cabinets made or purchasing one of the well known semi-custom manufactured brands"? Well, I'm sorry to say I do not have an easy answer to this question. Both have their advantages and disadvantages and I usually ask a series of questions to find out which would be better for each client. Some people do a lot of research before hiring a designer and they have already decided on a well known cabinet manufacturer. Other times, my clients have a friend of a friend who had their cabinets made locally by a custom cabinet builder.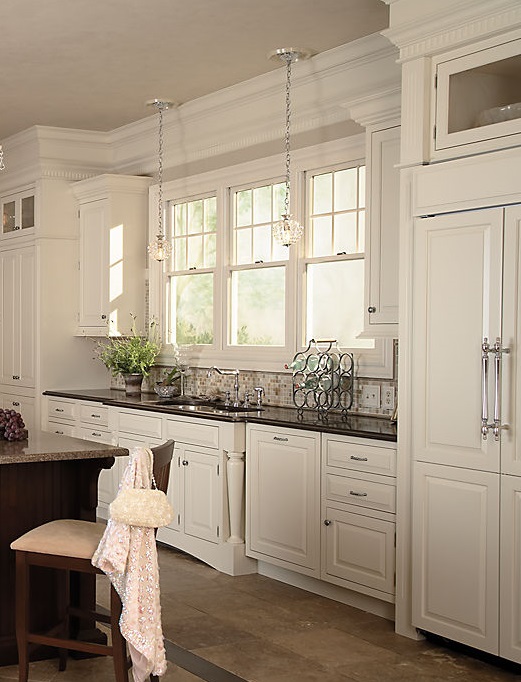 I am an Independent Designer who can be hired to design the remodel elements of a a kitchen, bathroom (or just about any room), in your home. After designing and drawing up the new space planning, moving walls, windows, doors etc. to achieve the desired goal of the remodel,  I design cabinets in detailed construction drawings that can be taken to a local builder or any cabinet showroom of my clients desire.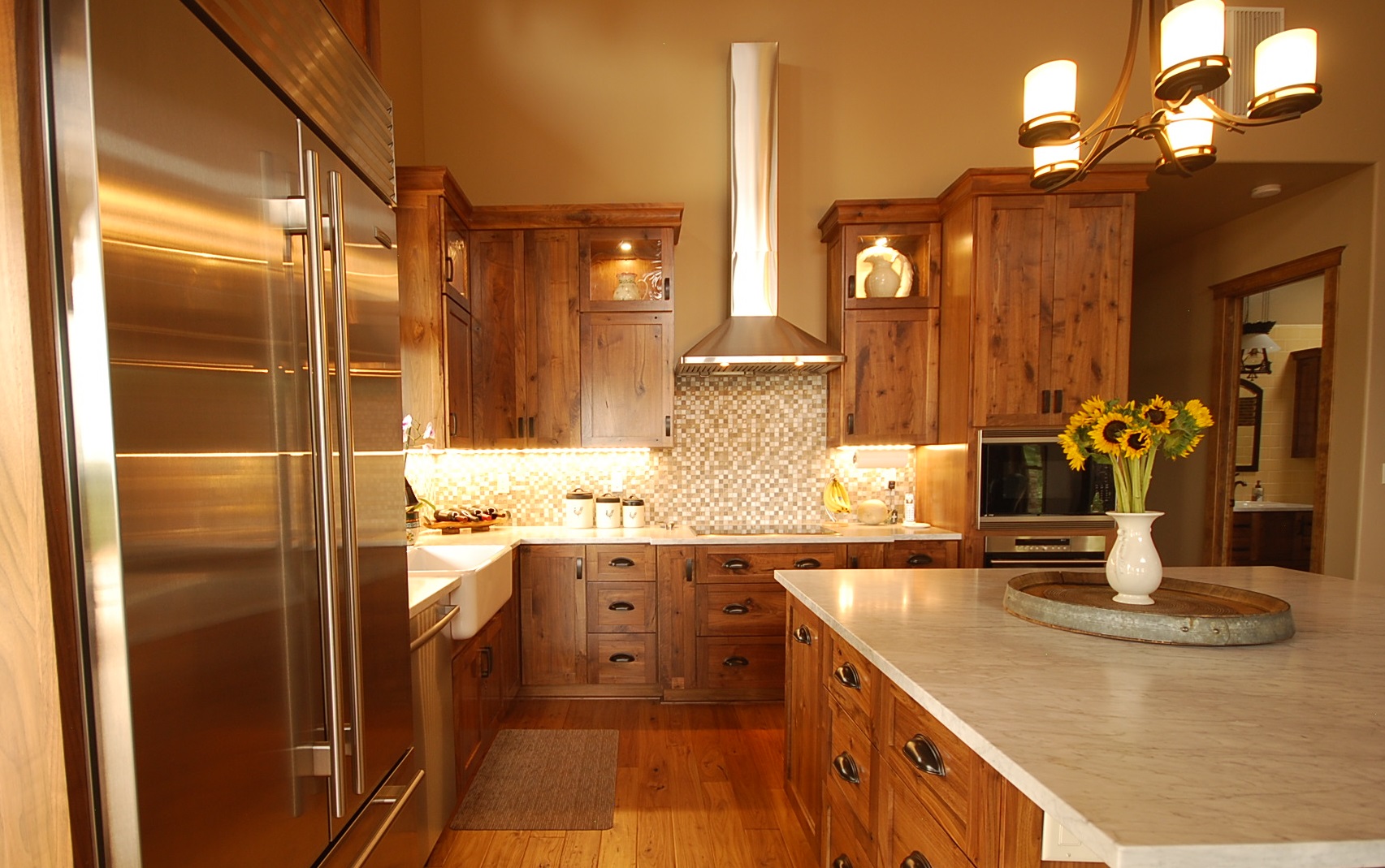 Local custom cabinets have their advantages  in that making minor changes can happen well into the build phase with only a short delay & small change orders (different in all cases). The same company who built the cabinets is also installing them so if the site conditions are different than anticipated, they can amend the cabinets as needed, easier than manufactured cabinets.  In some cases, I design such custom cabinets or furnishings that there is no way I could use anything but my local custom builder.
Custom Manufactured cabinets actually have quite a few advantages over most locally built custom cabinets. I say most because here in California, our air quality standards prohibit the use of catalyzed varnishes (unless in a totally controlled environment with strict guidelines, and even then only water based products can be used) which are the ingredients that make the finish really durable.  One of the local custom cabinet builder I use, Cooks Custom Cabinets, has such an environment, but most don't. So, in the absence of a local cabinet maker who does in your area, manufactured cabinets (that are always made outside of states with this air quality rule) are the best option. This catalyzed varnish is also baked on in most cases and this really ensures the finish will last and last. Also, in some areas, even a high end semi-custom manufactured cabinet will be less expensive than a local custom builder. Another advantage is that these larger manufacturers offer longer warranties on their finish and guides. It's not that local cabinet makers don't but you can't always expect the local guy to be around for the next 10 years or so when you might have an issue with the finish or the hinges.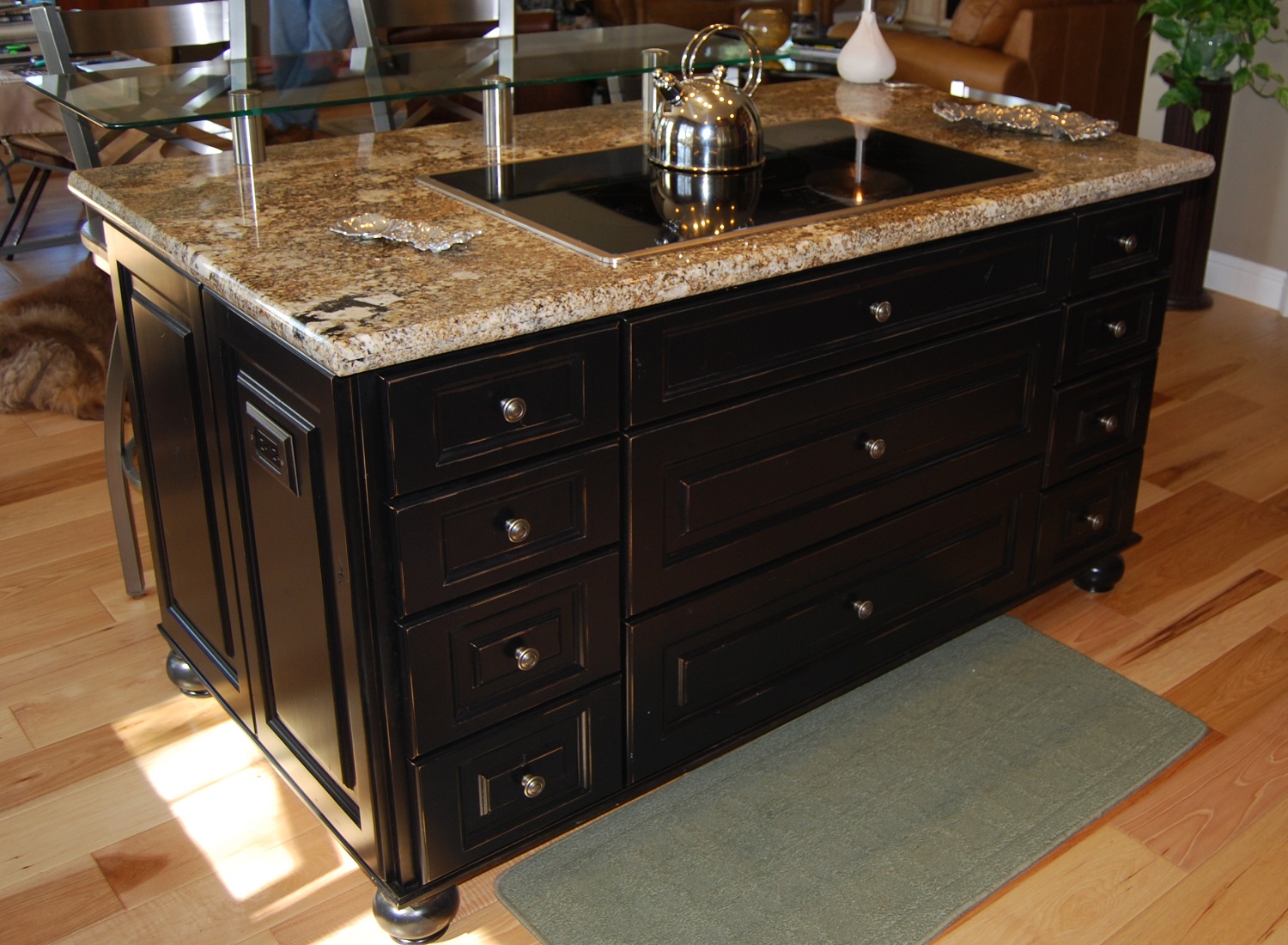 Ok, I may seem wishy washy here but back to local custom cabinets for a minute.  Yes, the manufactured brands (the higher end ones) allow almost any customization…… but they will charge a lot more for them than the local guy. This is because they have standard catalog items that can be customized by width, depth, height etc. but you will usually be charged for the next size larger cabinet even if you only need one extra inch in width. I have worked with totally custom manufactured cabinet companies like Plato or Wood Mode who will even build a totally custom cabinet from a napkin drawing…… not that I do this…..but in this case I think you pay more for this than if you have the local guy build it.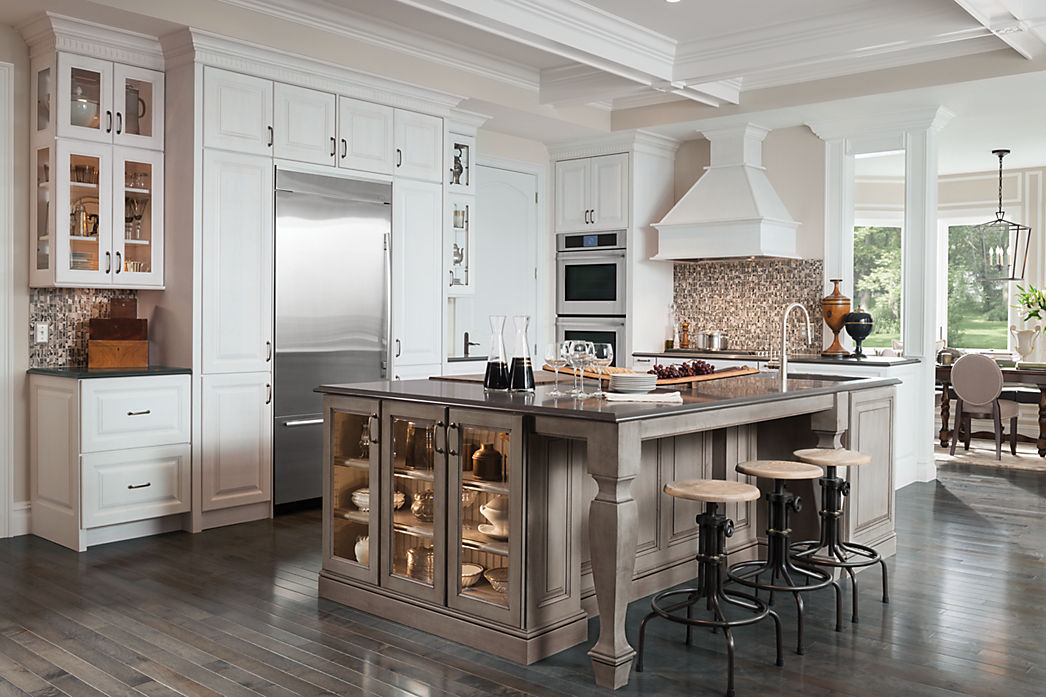 So as you can see, there is no "right " answer for which is better.  I have recently started designing with and selling my favorite semi-custom manufactured brand of cabinets because when I get those clients who really want that durable life time warranty, I want to provide them with cabinets that I know are built and finished really well. The line is called Yorktowne Cabinetry, a division of Elkay and sister company to Medallion Cabinetry (more well known name).  I love the customer service, design options, finish options and well, just about everything about them. They are a mid range line and they have multiple price levels from builder grade (which offers fewer options and customizations) to their highest end, inset door or flush door style cabinets that have most of the customization options you would ever need. So there is a price range for every budget, all with the same great quality and durability.
Now, if your budget just does not include cabinets from approximately $10,000 to $25,000 and up (depending on the size and style of your cabinets) let's talk about some of the options you have for lower priced cabinets. Creativity is key here so hiring a designer who can execute a well thought out kitchen design will pay off if you lack in that area of expertise.  First you need to remember, that your cabinets will never be as nice as the above mentioned options if you go some of the routes I talk about now, but again, you don't cook with your cabinets do you? They really just need to hold your stuff, they don't need to look like furniture to work. I do suggest that you opt for the good glides and hinges and a sturdy box construction but you don't necessarily need the fancy door style and a 4 step faux finish to make your kitchen function and look great. You can opt for less cabinets and supplement with a hutch, a credenza or shelving like I mention in my article about no wall cabinets. Creativity is key.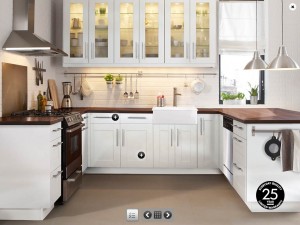 Or….. I am going to go way out on a limb here and say something I never thought I would ever say. And that is, buy your cabinets at IKEA. There I said it! And I stand behind it (if your budget is low). I recently bought cabinets at IKEA for my moms granny flat and they are great! I priced the cabinets out at one big box store and compared it to IKEA, and the cost was way less at IKEA and I got better cabinets! I got full extension drawers with soft close glides, great hinges, also with soft close, and the boxes are European frameless and are 3/4″ thick and sturdy as heck! You have to put them together and install them yourself (you can hire IKEA to do this but it will really save you if you DIY) but they are made with such precision that all the doors and drawers line up perfectly in a snap. They do not have as many door styles or colors to choose from but for the amount you can save, it's unbeatable. To get around the fact that there are absolutely no custom orders, you (or your designer) can creatively use other storage products from IKEA or elsewhere to make your design unique.
I've looked over the cabinets at the big box stores with great detail and I am most disappointed with the quality I see (sorry Martha). To keep the price down, they will specify 3/4 drawer glides (not full extension), and leave out all the little things like end panels and recessed toe kicks where they should be, not to mention a host of other things just so your bottom line is lower than the cabinet shop down the road. These cabinets may have more style choices than IKEA but the boxes are just plain inferior….. I think. Then if you are planning to move any walls or doors and create a new floor plan, they won't even order your cabinets till they can measure the finished space. This can leave you without a kitchen for an extra 3 to 4 weeks.  With IKEA there is no lead time. You order when you need them because they are cash and carry. Oh some parts might be back ordered so buy a week before you need them but if you have just torn out your cabinets prior to ordering new ones, you can fill the bill with IKEA cabinets the same day in most cases. Don't get me wrong, I love the big box stores for lot's of DIY projects. They are unbeatable for many things….. Just not cabinetry.
The last and final cabinets I will reluctantly talk about are the ones that some contractors buy off the shelf at the "contractors only" stores. Blah! These are unfinished cabinets in most cases, and are usually very low quality. The choices are minimal. Some come without door and drawer fronts and the contractor will then order those from a door company to suit your style. They will need to be finished on site and in most cases, this will not be a controlled environment so the quality of the finish will be marginal. Sorry contractors but this will inevitably leave you with what we call a "contractor grade" kitchen, not a "designer grade" kitchen. Instead opt for IKEA. You won't spend the high price, but again, if your budget is low,  IKEA is a better product over the "contractor grade" type of cabinet. Tell your contractor going in because I have run into many contractors buying cabinets at IKEA and as long as they know the product well, they will be able to order all the right parts and pieces. Then with a little luck, and creativity, even in the absence of a designer, you will get a better product and a nicer kitchen in the long run. (I sound as if IKEA is paying me to say this but…… not yet!)
Note: Please don't tear out your cabinets prior to drawing up the new kitchen design as well as cabinet designs, and knowing where you will be sourcing your cabinets. With the local custom cabinet builder, it will take anywhere from 3 to 10 weeks lead time depending on how busy they are.  Most semi-custom manufactured brands are anywhere from 3 to 8 weeks out. Even the big box stores in most cases are 4 to 6 weeks. Only IKEA and the pre-made boxes from the contractor stores are cash and carry. But still don't tear your kitchen apart till you have everything all planned out. You are setting yourself up for a long arduous haul of "take out" food and the hardest part is not having a sink for minor clean ups. Just please be patient and plan, plan, plan (and hire a designer)  ;-))