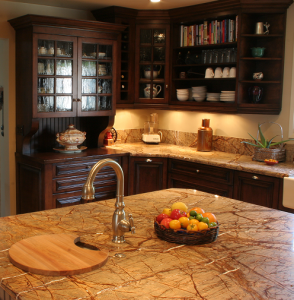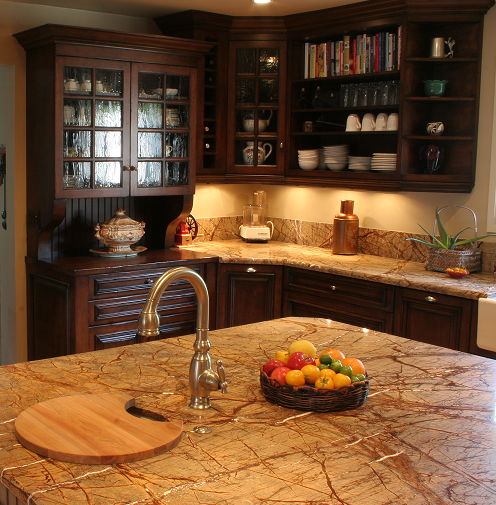 Here's a great trick if you don't have those built in lights under your kitchen cabinets to light your work space. They are stick on, LED under cabinet lights,  that are affordable and easy to "Do-It-Your-Self".  In most older kitchens and even some new ones that were not done by a professional kitchen designer, the very useful under cabinet lights are missing. Or they have these ugly white plastic boxes that most of the time show and don't really work very well. Right?  Well if your kitchen has this problem and you are not planning a remodel anytime soon,  there are many types of battery, LED stick up lights you can install yourself in a snap. You can also get the (also easy to install yourself) models of LED Puck lights that work 'in line' with a driver and will only require one switch to turn them all on. A bit more work going in, but the instructions are easy to follow and you should be flipping that switch in no time at all.
Under cabinet lights provide a great ambiance to your space but most importantly, they light the counter top area where you are cooking or prepping your meals. The overhead, most likely recessed can lighting in your kitchen can get blocked by your body when you are at the counter (especially if you have wall cabinets above your workspace) and leave you in the dark, barley able to see what you are doing. You won't believe the difference these lights will make.
Depending on the look or function you are after, you can place them under the cabinets, close to the wall for a nice light reflection off the wall or back splash or under the cabinets but near the front edge for more light efficiency. As a kitchen design tool, these can be a very handy item.  For example, I recently used the LED tape which is a very thin tape with tiny LED lights spaced very close together and are very low profile and don't require a light valance because they are about 1/16″ thick (or less). You do need to use a driver with these and the installation is a bit more tricky. One driver will run only so many feet of light tape so in larger kitchens you may need two. This type of lighting provides a more even fill light as opposed to the spot effect you get from the single "puck" style discs you space every 15″ to 18″.
As recently as 2 years ago, LED lighting did not pass the title 24 code for kitchens,  which called for at least 50% of your kitchen lighting to be energy efficient or Compact Fluorescent Lights (CFL's). While I was in the middle of a kitchen addition/remodel for my clients in L.A. a couple of years back, the code changed to include LED lighting. Yay! I always hated the look and color of the fluorescent lights because … well, they flicker ever so slightly (which I can see) and they cast a bit of a green tinge throughout the room. The LED lights come in a warmer tone than the fluorescent do and most of the time are dimmable as well which allows you to warm up the color by dimming them down to just barely on. If you are remodeling and or just changing out your lighting in your kitchen, please do consider going with LED recessed cans and under cabinet LED pucks or tape. The energy you will save in the future will be well worth the small extra upfront cost you will pay now to go with LED's. Plus the experts say now that even fluorescents are "off gassing" and in the long run are not the best anyway because of the waste and dangers in the landfills.
Anyway…. happy LED shopping. Click on any of the blue links in this article to take you to Amazon where you can shop and buy many types of LED lights for your home.
Thanks for visiting.