Using Briwax to stain kitchen cabinets
is a good DIY technique to change the look of your kitchen with a small budget, or when you can't afford a new kitchen design or remodel. I forgot all about this product when I did my previous articles on cabinet quick fixes.  This is a wax with a stain in it and can be used to darken stained cabinets. It works best if your cabinets do not have a shiny top coat especially one that is pealing or cracked. If not, this is a great product because you don't have to do all the sanding that traditional refinishing requires. You will need to get some mineral spirits (I like the odorless kind) and just wipe down your existing cabinets after removing the doors and drawers. Make sure to mark the doors to the corresponding cabinets so when it's time to put them back on it's not a huge guessing game. Wipe down the face frames and all the surfaces to be waxed. Then you can use the product cold or in it's thick waxy state or heat it up to give a thinner consistency to work with. I found that using it warm makes it go on more even and is more forgiving. Just put the tin, open, into a pan with a bit of water in it and heat it up briefly on the stove to thin the wax. Then stir it up a bit and your ready. You may have to reheat it a few times during your application to keep the same consistency throughout.
Now working with the grain, rub the wax on to your cabinets, making sure to cover completely. The product is somewhat forgiving in that you can buff it out in areas if you get it too thick here and there but it's best to take your time from the start to avoid this. Follow the directions on the product label or go to their website for more detailed instructions. Then once you have one door or area completed and it has dried for about 10 minutes, you go back and rub or buff it out to the level of shin you want. I like them when they are not very shiny but a bit of buffing is necessary to get them smooth. If you are keeping your existing hardware and it is a light color, it will be easier to remove the hardware first. I did not do this on mine because the hardware was a darker oil rubbed bronze finish in a distressed style and I just took care to go around them.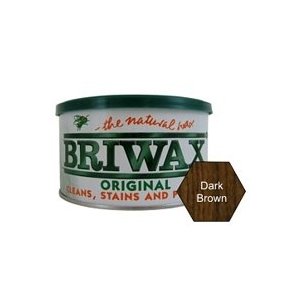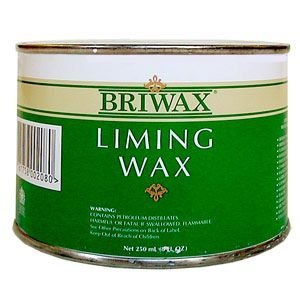 If your cabinets are dark and you want them a bit lighter or to look like the weathered wood color that is so popular with Restoration Hardware right now, you can also use Briwax Liming Wax. This product can also be used on bare, stained or glazed cabinets but I think it works best if there is no or little glaze. If the grain is really open or porous your good to go. If not, you might want to use a wire brush or steel wool to open the grain a bit before stating this technique. I have not used this yet but plan to on  my hutch real soon. I love the weathered or greyed down look you get with it and it makes your cabinets or furniture look like architectural salvage or barn antiques.
Briwax has  quite a few colors to chose from and you can get it at Amazon . Just please read all the instructions before you start your project. I have worked with it many times but my instructions above came from using it a few times and this is just how it worked best for me.
Have fun!