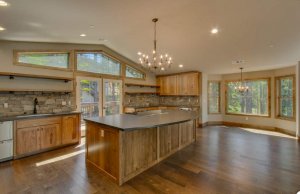 This was a new construction spec home in Lake Tahoe, where the investor wanted a rustic (but updated) feel. So I used real stone veneers for the backsplash, rustic hickory cabinets and a black leathered granite counter. All wrought iron accents in the lighting and hardware helped achieve the look.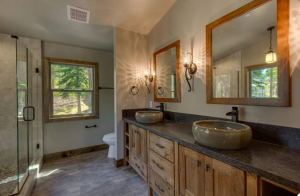 As a designer/ specifier for new home construction, I get given a blank slate to work with. The architectural plans just have walls, windows and doors. In designing the layout for rooms like the kitchen and master bath, I can suggest window or door changes in order to complete a more usable, functional or aesthetic space.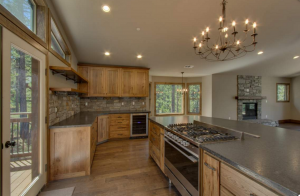 With the direction of the homeowner, or in this case the investor, telling me the general style they want to achieve, I set out to specify fixtures, fittings, lighting, cabinets, counters, tile, paint and architectural details from inside to outside of the home.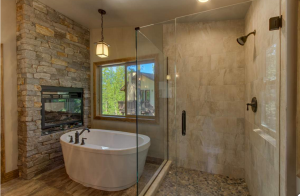 I convert the architectural plans from DWG files to my Chief Architect program and then design the layout of the kitchen. My program allows for 3D color renderings so the clients can see the direction I am taking as I go. All the while, I am keeping close tabs on the cost of the items I specify to stay in the price per square foot budget I have been given.
I think this project turned out pretty well.